Jewish and Muslim groups in Detroit generously coordinated a Volunteer Day to take over various volunteer services so that Christian volunteers could be with their families over Christmas
---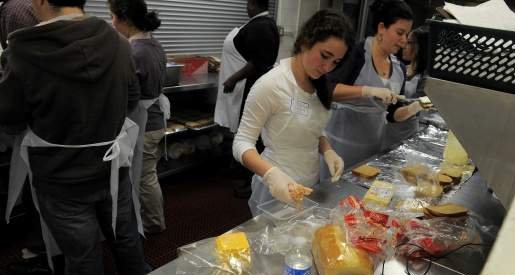 From The Detroit News:
Jewish and Muslim volunteers fanned out across Metro Detroit on Friday to serve the community so Christians could spend time with their families preparing for Christmas.
The Volunteer Day is part of the Jewish Mitzvah Month and is coordinated with Muslim groups. Hundreds of people volunteer in social service projects throughout the region.
Volunteer Susan Sabbath and daughters Rachel, 16, and Madison, 13, helped prepare meals at the Detroit Rescue Mission for what was expected to be around 300 people. It's something they've done for years.
"It's nice to give back on a day where people can be at home to celebrate their holiday," said Sabbath, who is Jewish.
Volunteers helped out by making meals at the Rescue Mission; serving meals at the Congregation Beth Shalom — South Oakland Shelter in Oak Park; delivering poinsettias to seniors in southwest Detroit through Bridging Communities Inc.; serving meals to residents of the Sunrise Senior Living of Troy; and taking inventory at the Active Faith pantry in South Lyon, as well helping out other groups in Wayne and Oakland counties. The Jewish Community Relations Council coordinated the event.
Traditionally, the volunteers come together on Christmas Day to aid the social service agencies for Mitzvah Day — the single largest day of Jewish volunteering. But this year, many volunteered on Friday instead.
The interfaith sites concluded by noon to accommodate Muslims' Friday prayers, and other sites were scheduled to wrap up by 3 p.m. to avoid any conflict with the Jewish Sabbath.
Observant Jews don't work from sundown Friday until sundown today.
About 200 Jewish and 50 Muslim volunteers joined the efforts Friday, said Robert Cohen, executive director of the Jewish Community Relations Council.
"This is just going to continue to be a connection between communities," he said.
Muslims have indicated they'll fill in for many Jewish and Christian volunteers today.
Dr. Zahid Sheikh of Bloomfield Hills, who is Muslim, made a family outing of the volunteering. He and his wife, children, brother, sister-in-law and nephews helped sort books for a sale at Bookstock.
The Detroit Rescue Mission Ministries offered some good cheer to one local family Friday when it gave a house to Christopher and Myia Coker and their five children.
"This is just amazing, I can't believe it," Christopher Coker, 29, said.
He h as worked for the group for 10 ye
ars and helped to fix up the house that was donated by a retiree. The Coker family was given the keys to the house by Chad Audi, the president and CEO of the charitable organization.
"I thought when I was working on it, 'This is nice. Whoever gets this house will be truly blessed.' I had no idea it was going to be us."
To keep the house: The family must live in it for at least three years, maintain it and pay the taxes, and will be required to save for their children's education.