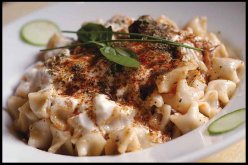 Christian and Muslim women taking part in the seemingly trivial activity of cooking classes together reached understandings that changed their world view in the process.

Krista Ramsey writes in her column at news.cincinnati.com about their experiences.
---
Fatma Serim's hands fly as she shapes and reshapes a glossy sheet of dough using an oklava, a small drumstick-shaped Turkish rolling pin.
Around her, Zeynepnur Kuran and Fatos Budiyar pull open kitchen drawers looking for spatulas and spoons to make tiny stuffed dumplings called manti.
The women, all Muslim émigrés, are as comfortable in the kitchen as if they were whipping up a family meal in their native Turkey. In fact they are 5,500 miles away, chopping and stirring in the basement of the Mount Auburn Presbyterian Church. Around them a circle of Christian women make notes on their recipes and take turns trying the oklava.
The Turkish women are followers of a version of traditional Islam that emphasizes hizmet, service for the common good, and uses small, personal interactions to further interfaith understanding.
In a world torn apart by religious conflict, pounding walnuts into crumbs or shredding cabbage may seem like humble ways to promote unity. But the Christian and Muslim women alike say the cooking classes are building personal relationships and dispelling religious stereotypes.
"We could go a long way toward world peace if you could get a bunch of women together stuffing grape leaves," says downtown resident Sandy Lingo. "We're all working together and talking. We're all alike – except that they're better cooks."
The classes grew out of a shared meal and conversation between the Muslim women and Mount Auburn pastor, the Rev. Susan Quinn Bryan. The women are members of the Niagara Foundation, a non-profit started by Midwestern Turkish-Americans to promote global fellowship. Now up to 25 women meet Saturday afternoons to cook and eat together.
For Deer Park resident Wanda Chandler, the chance to meet Muslims and ask frank questions about Islam has countered her earlier religious teachings that Muslims were evil.
"Last week we talked about why they wear their headwear. We talked during the meal that separation breeds fear," she says. "I think this is what everybody needs. So many Christians are really fearful.
This dispels the fear."
Jean Snyder of Florence has used her relationships with the Muslim women to counter biased comments by relatives.
"I can say, 'That's not my experience with Muslims,'" she says. "I can't imagine someone not feeling welcome and warmed by these ladies. It seems impossible to think that anyone could think they don't belong in the United States or shouldn't practice their beliefs."
Sema Duygu Deger of Mason says the more she meets with her Christian friends – whom the Muslim women have begun calling ablalar, or sisters – "sometimes it is hard to see any difference."
While they are careful to respect each other's beliefs, both the Muslim and Christian women openly follow their own practices. As they sit down to eat together, Snyder blesses the meal "in Jesus' name." And when it's time for their daily prayers, the Muslims retreat to an upstairs room beside the sanctuary.
"There is no special place to pray to God," says Mehriban Ulas of West Chester who, on her name tag, has written beside her Turkish name an English name that sounds somewhat similar – Mary.
Each cooking class is followed by a shared meal ("Sit Christian, Muslim, Christian, Muslim – like boy, girl, boy, girl," says the Rev. Quinn Bryan) and discussion around a religious topic.
The women say they're constantly astonished at the intersections of their faiths.
When the Mount Auburn women showed their guests a stained-glass window of the biblical parable of sowing seeds on different types of soil, the Muslim women quoted their own version in Turkish.
When a Muslim woman read from the Quran the story of the angel Gabriel visiting Mary, "It could have been from Luke – I almost wept," said the Rev. Kathy Barlow Westmoreland, pastor of St. John's Westminster Union Church in Delhi Township.
Westmoreland says the classes are helping all the women practice their faith without being threatened by other faiths.
"One of the most common things said in scripture," she says, "is 'Don't be afraid.' "