The article reprinted in part below is one that should be read by every Christian who believes in evangelizing the Muslim world.  Evangelical church-leader and scholar, Nabeeh Abbassi, is evidently a great believer in evangelism. Even so, he does not believe that this is a matter of turning Muslims into Christians.
Abbassi makes a distinction between religious affiliation and spiritual transformation. The former is simply a classification of tribal identity. The latter is the work of God! The two are very distinct! Unfortunately though these two are always being confused, which is why religious faith so readily degenerates into tribalism. Tribalism leads to arrogance, imperialism, discrimination and violence, whereas the Spirit of God takes us in the opposite direction!
Father Dave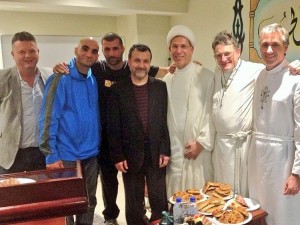 from: The Christian Examiner
Evangelical scholar says no need for Muslims to become 'Christians'
by Joni B. Hannigan 14 May, 2015
In a place where Christians and Muslims increasingly have faced hardships due to radical Islamists who are bent on the eradication of Christians [ie. Jordan], Abbassi said it is especially important to remember the way families are identified – and the culture – when reaching out with the Gospel message.
"I don't think we are commanded to change people to become Christians," Abbassi explained. "I think we are commanded to reconcile people to God through Jesus Christ — and that happens in their heart — this is the work of the Holy Spirit."
Abbassi, who is also founder of Arab Center for Training and Consulting Services (ACCTS), an official NGO serving refugees in the Middle East, said a careful presentation is important for Easterners who are a "tribal and social" people, lest problems lead to violence.
"We don't want to bring calamity and war. We want people to reconcile to God without rioting," Abbassi said. "We know this is not easy and there is a price for people following Him.
"What I am trying to say is that we are not to encourage people to become 'Christians,'" Abbassi said, with the understanding that "as Arabs, this means you were born in a Christian home and part of that family or that clan."
People "don't have to call themselves Christians" to change the culture, Abbassi said. "They need to have hope, joy and peace with God through Jesus Christ to be able to impact their society."
It's a spiritual work, not an "identity change on paper," he said. "We want to see people improve their love with God through Jesus Christ and that's the Good News."
Read the full article here: http://www.christianexaminer.com/article/evangelical.scholar.says.no.need.for.muslims.to.become.christians/48941.htm